The Greek economy may have taken a battering in recent years but it's still a premier travel destination and must-see Mediterranean gem. Steeped in history, mythological tales of snake-haired women, and picturesque seaside homes, Greece is a quaint location for those seeking a warm welcome.
Before we reveal where to visit in Greece, let's start with the food. We can't reiterate enough how great the food is. Healthy living and rich flavour is key here, so expect fresh olives, salad, hummus and rustic breads. If you have a sweet tooth you are in luck, as the traditional cake shops provide a heavenly range of cakes, such as semolina cake with orange syrup, sweet baklava tarts, sticky tulumba pastries and creamy tiramisu – we know it's not Greek but it's still divine!
You'd be a fool not to try the local delicacies. Fresh fish is easy to get and you only have to see the clear turquoise waters to see that this country is not only beautiful but an advocate for great living.
The Greeks create a great feeling of belonging. If you haven't yet watched the film 'My Big Fat Greek Wedding' make sure you do as the sense of community outlined isn't too dissimilar from the friendly welcome you'll receive from the family-run seaside hotels and B&Bs dotted around the Grecian coastline.
Rhodes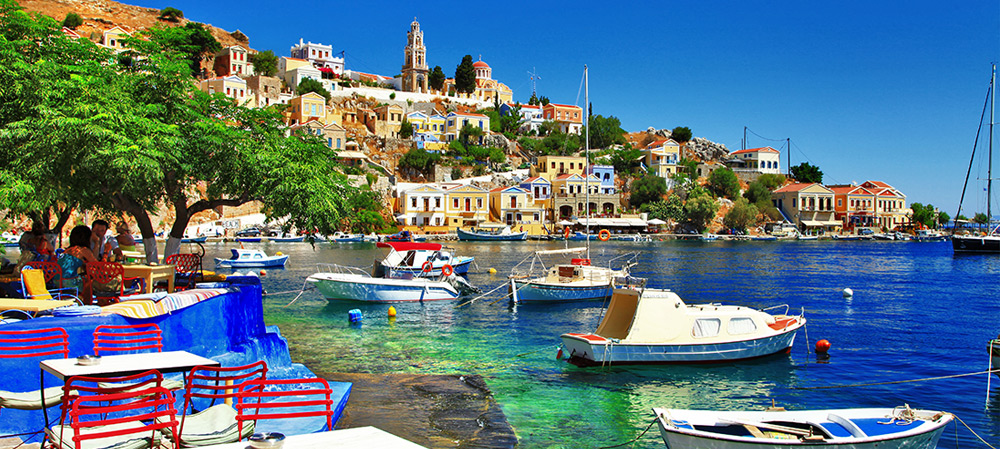 A popular destination for people who want great beaches, some nightlife and a touch of historic culture, Rhodes is at its best from May until the end of September. Walk the cobbled streets and explore the old town. From leather, to silver and gold you won't have trouble finding a nice souvenir at one of the weekly markets stalls.
Windsurfing, cat sailing and water-skiing are just a few of the water sport activities you can try out. Beginner lessons are available so why not book a few lessons, improve your skills and have fun.
Take a walk along the harbour and visit one of the street artists for a painted portrait.
If you're steady on your sea legs then don't miss an excursion on a glass-bottomed catamaran to Lindos where you can stop off for a swim in the sea. Or venture further, island hop and take a day-trip to Turkey by hydrofoil ferry.
Lindos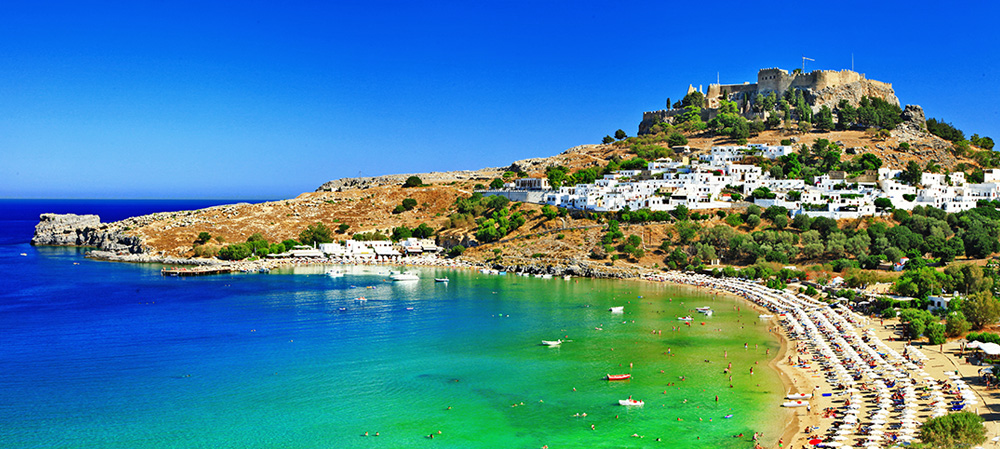 Just west of Rhodes, you reach the charming medieval village of Lindos. With three main beaches to choose from, Lindos is ideal for those looking for some R&R.
St Paul's Bay offers its visitors some breathtaking views, so if you find yourself in need of a beach day we'd recommend you start here. There is a public bus that takes you direct to the beach, but it's only a short walk from the centre of town.
Lindos competes with Delpho as the second most visited archaeological site in Greece, which perhaps explains why it receives over 600,000 visitors annually.
Aside from sunning yourself on the sandy white beaches, we recommended you take some time to climb the Acropolis and take in the view of the surrounding villages and seascape. 'It's thought that the temple of Athena on the acropolis was founded by Danaus, who came to the island with his 50 daughters to escape the rage of the goddess Hera.'
Make your way up through the ruins and spot the Castle of the Knights of St John and the Greek Othodox Church, built on the ruins of an older church. Then navigate your way up a monumental staircase to the '4th century BC open-air courtyard and temple of Athena, where the statue dedicated to the Goddess by Danaus and his daughters was situated and worshipped'.
Athens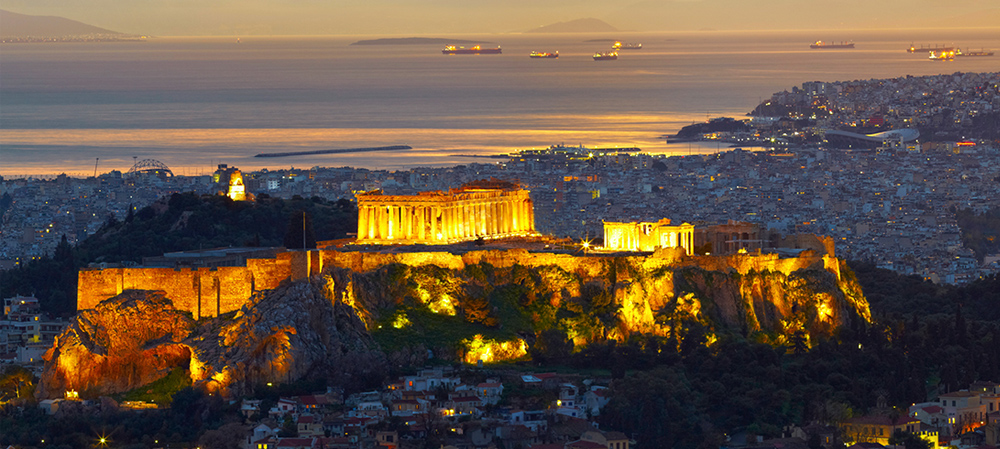 The capital certainly can't be missed off a list of where to visit in Greece. Athens is a great city break for people who are looking to explore. Despite Greece's ongoing economic anguish, the city is still a hotspot for culture, history and great weather.
A visit to the Acropolis to see the Parthenon is a must, but make sure you visit early or late in the day to avoid the mid-day sun. The ascent is not too steep but as there are no roads to the Acropolis, it's just perseverance and comfortable shoes that will get you to the top.
Likewise Mount Lycabettus at the heart of Athens provides one of the best views of the city and surrounding islands. You don't have to walk up this one as there is a cable car, but we'd recommend you do. You can walk through the surrounding forest and see Greek nature at its best. From wild birds to flowers this is a fantastic trail to walk and an even greater view when you get a 360 view of the sun setting from the top.
It's not just relics that Athens offers; it also hosts some of the best European nightlife.
Ios
This party island offers a range of cocktail bars to try when the sun goes down. Popular with British tourists, you get the beautiful landscape expected of Greece but with an active nightlife.
Santorini
If you don't end up staying in Santorini you should at least take a boat trip here for the day. Lined with luxury hotels, bars and clifftop hotels, Santorini attracts those with an elastic budget.
Take a yacht ride away from the crowd and see the islets Nea Kammeni, Palea Kammeni and Thirassia. From the sea you get a good view of the volcano and a chance to find your own slice of paradise on one of the many secluded beaches. Relax in the natural mud baths and swim in the hot springs whilst taking in the awe-inspiring landscape.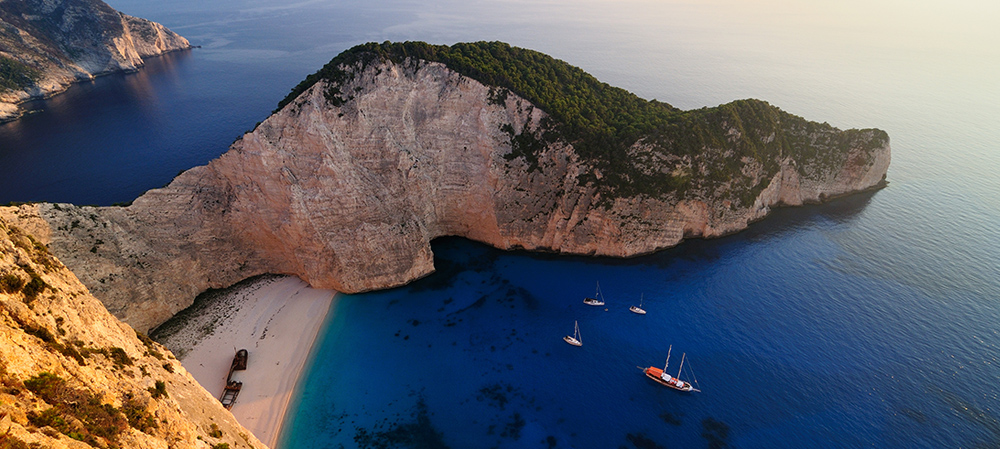 Kefalonia
Kefalonia is a family destination famous for its beautiful exotic beaches. The island was once the location for the Hollywood film Captain Corelli's Mandolin, starring Nicholas Cage. The capital, Argostoli, has a natural harbour complete with a cobbled promenade and quaint food market featuring the local fishermen's catch of the day. Stroll along the harbour and try the local meze and ouzou on offer.
Myrtos beach is a popular haunt for sun worshippers. But if you can't handle the heat then you can always explore the rest of the island, as there are lots of monasteries, castles and lighthouses to see.
Hire a car and explore the surrounding mountains to reach a more remote part of the island, such as the Melisani and Drogarati caves, estimated to be 150 million years old.

Visit the official Greece tourism website for more tips.

What could be more romantic than dining in a beautiful city serving world renowned cuisine? Treat your partner to a romantic getaway this year, to one of these top destinations.